The most helpful features that prompt homeowners to use LED strip lights is the flexibility of use and application they offer. Another helpful feature is that these can be customized. Compared to usual types of lighting consisting of one glass cylinder, these lights comprise of one strip of stretchable circuit board that is very long-lasting and can bear high tension. Though tough and flexible, you can cut it conveniently.
The convenience of LED strip lighting
Many consumers rightly consider strip of LED lights as a type of tape meant for illumination. That's because the construction of this kind of lighting comprises of a tape, one side of which contains a string of LEDs that are evenly spaced, while the other side has a coating of strong adhesive. The other convenience of using LED strip lights is that these can be cut to different lengths as per the demands of the current project. The users may cut the strip themselves or they can also ask the dealer to cut the strips as per requirements. Irrespective of the way you may choose to cut them, first of all you have to have to take measurements of window, wall or furniture wherein you like to install these lights. Taking measurements in millimeters helps the retailer to cut these more accurately.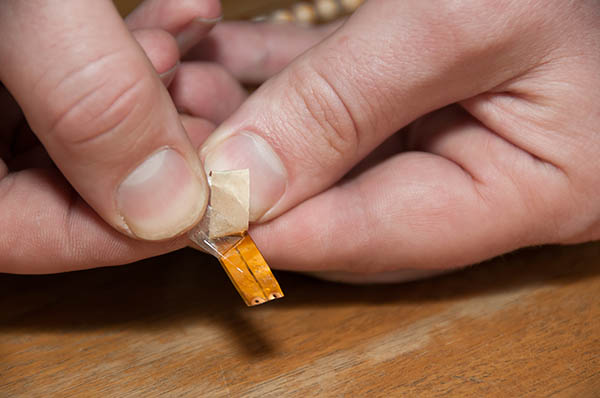 Getting the tape cut
The most convenient way to cut the strips is to get it done from the retailer, who would do it and make them as per your requirements. Apart from cutting the strip to required size, the retailer also solders the joints before handing over the same to you. Moreover, the dealer can also make useful suggestions like the most appropriate strip for the kind of application you have in mind. The other option for you will be to hire the services of an expert electrician for doing the needful. This may work out costlier as the electrician would generally charge you on hourly basis, but if an electrician is working for your installation, you can ask him to oversee the entire project and ensure everything works out to perfection. Any electrician can cut and solder the strip as per requirements.
DIY
You could possibly undertake the cutting on your own. As you see an LED strip, you'll realize that only one of its ends is wired. That's because a strip of LED lights always forms a closed circuit and the other end need not come back to the starting point for functioning of the strip. So, you may cut the strip at any convenient point to suit your needs without affecting this working.
Cutting points
All strips of LED lights come with easily distinguishable cutting points, which are evenly spaced along its length. When you want to make any cut, it should be at one such point. You may use a pair of scissors or a sharp knife for the purpose. If you think you'll need to solder at some points, you'll notice a series points for soldering too. Single color LED strips have two of these while RGB LED Strip Lights have four such points. You can attach two or four core cable through these soldering points. However, soldering should be undertaken by experienced hands. When making a cut on an LED strip having IP65 rating, care should be taken not to spoil the silicone coating as it affects its waterproofing characteristic.
If you feel this task is not for you, or if you prefer leaving it to professionals, you can always get the help you need. And these days, the easiest way to get help is online. And you can get general ideas by spending time reading and learning the given reviews, tips, and guides at LED light review.