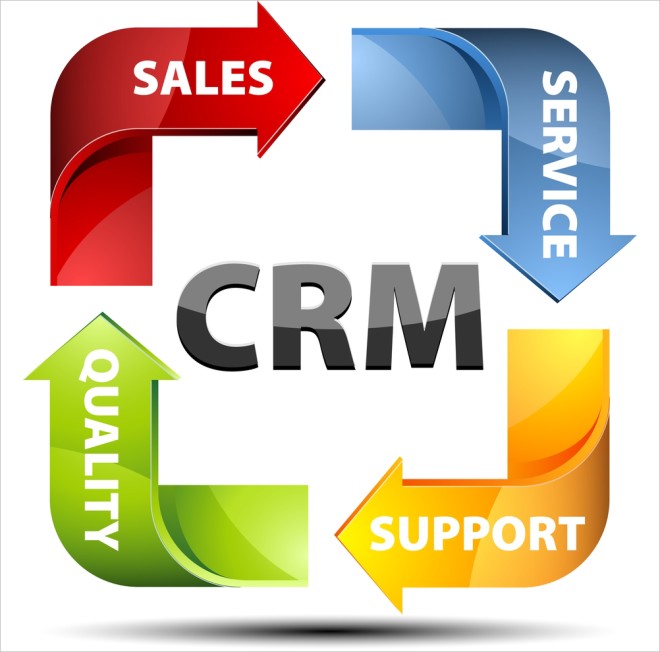 Professionalism is an important component of success in the investment business. It combines an ethical approach to relations with partners and a highly-technological level of business processes. The implementation of CRM will help to take the leading positions in the market of investment banking services and convert ideas into reality.
Any investment banking CRM service should provide all the necessary support for optimization of solutions in that sphere.
The CRM solution should reflect the typical tasks of the industry which include:
organization of work with retail;
asset management;
organization of work with agents;
brokerage services;
management of financial projects.
Implementation of the solution helps the company to:
ensure effective work with different types of clients;
increase the possibility of signing a contract;
predict income effectively;
increase the effectiveness and speed of checking marketing and sales strategies;
configure complex financial products.
Bpm'online
Bpm'online is an investment banking CRM for private banks as well as for capital market firms which is adjusted for particular needs of the industry.
It is an example of a single CRM strategy for the investment bank development. It covers not only all the classic CRM tasks, such as sales, after-sales service, and marketing, but also a number of related solutions, for example, product lifecycle management.
It provides:
– high standards of the service quality;
– client relationship management;
– more productive Advisor;
– more deals closing;
– new possibilities for the business growing.
Bpm'online gives a systematic approach that affects all the divisions of the bank: corporate, investment, development and retail banking departments.
The implementation of this CRM solution allows developing a CRM model of the bank's work, starting with ideology and development strategy, and ending with specific procedures and functions.
The introduction of Bpm'online consolidates information about customers and minimize the risks associated with the influence of the human factor when working with data.  Bpm'online company is distinguished by positive recommendations, competence, and efficiency of the company's employees. All the important features are described on https://www.bpmonline.com/investment
Oracle Siebel CRM
Oracle Siebel CRM is a customer relationship management system that allows building a comprehensive investment banking CRM software that automates both front-office operations: sales, service, marketing, and relationships with partners; and back-office: analytics, management of orders and personnel, calculation of compensation to employees, etc., as well as integration with client's IT system.
Its functionality is delivered as separate horizontal or vertical solutions that have common interfaces and navigation system as well as the same architecture:
Horizontal (functional) solutions allow a company to automate individual blocks of tasks that are relevant for any business: sales, marketing, service, customer information support (Siebel Sales, Siebel Call Center, Siebel Partner Portal, Siebel Remote, Siebel Loyalty, etc.).
Vertical (industry) solutions add to the horizontal solution the specificity of the industry, (Siebel Finance, Siebel Consumer Goods, etc.).
Vertical and horizontal solutions use one core, but different settings at the application level.
In addition to applications for employees, Oracle Siebel CRM provides portal applications for users: Siebel eSales – portal for conducting online sales and Siebel eService – portal for self-service and support. To work with partners, there is a partner management application Siebel Partner Manager and a portal application for partners Siebel Partner Portal.
Investment Banking CRM Solutions from Pega
Pega, investment banking CRM application, offer financial institutions a possibility to succeed in relationship management. This CRM system is most suitable for large companies that process high volumes of complex customer inquiries.
As for the investment business solution, Pega includes the following applications:
Pega Onboarding CRM, which is developed to automate client's onboarding in the capital markets.
Pega Client Service, which helps banks to provide exceptional customer service in all directions.
Pega Smart Investigate for Securities, which automates exceptions and investigations management from alert through resolution.
Moreover, the system is well structured to be used in banking for analysis of claims and charge backs. Many of the world's financial companies use this CRM solution in order to automate their customer managing processes and to reduce the time for onboarding new clients.
Microsoft Dynamics CRM for Investment Banking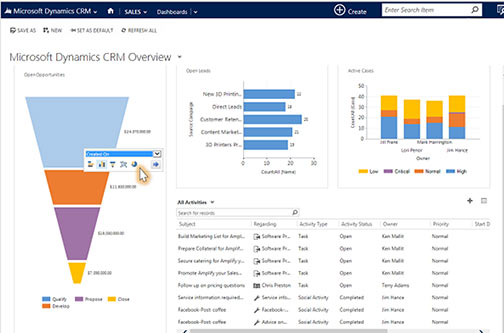 A customer relationship management system based on Microsoft Dynamics CRM provides full control over all phases of the relationship with customers by tracking the history of communications, fixing the source of the client's onboarding, saving project documents.
Microsoft Dynamics CRM solution takes into account the features of financial companies in the retail and corporate segments, as well as reflects business processes related to the management of sales of mutual funds, brokerage, and assets trust management. This CRM solution qualifies potential customers for choosing a strategy, manages marketing activities effectively, analyzes the employees' work develop motivation programs.
A special place in the solution is given to the management of investment banking projects, which provides a comprehensive coverage of the business of financial holdings. It improves the project management system and takes a leading position in the market of investment banking services.